In every general election, particular issues of the day will always feature heavily in the debate, and as Britain prepares to vote on 8 June, it's inevitable that Brexit negotiations will dominate the campaign. But our next government will also be able to influence a range of other important issues, including the future of dementia research.
In recent years, thanks to your support, we've seen dementia rise up the political agenda and action against the condition begin to gather momentum. We reported only recently on the impact that funding for dementia research is starting to have, helping our scientists produce results in the search for new treatments. But dementia research is still playing catch-up compared to other serious conditions. We currently lack effective treatments and preventions for dementia, and we have a lot more to do if we are to change the outlook for people with the condition.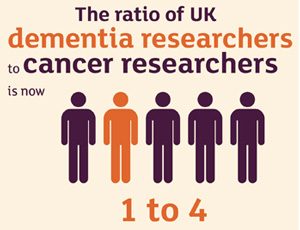 When new governments form, there is always a danger that activities begun in the previous Parliament may stall if they are no longer considered a priority. Whoever is in charge on 9 June, our task will be to make sure they understand the seriousness of the challenge we face, and that they continue to support action to tackle dementia. That's why, in the run-up to the election, we're asking you to help us put these issues on the agenda by joining the #campaignfordementia.
Current government action on dementia
Since the last general election, we've seen a number of activities set in motion that we hope will have a real impact for people with dementia, and it will be vital for these to continue:
Over the past year we have seen the establishment of the UK Dementia Research Institute, which will bring together scientists across the UK in a dedicated effort to defeat dementia. With £150 million committed from the Medical Research Council, and £50 million from each of its founding charity funders, Alzheimer's Research UK and Alzheimer's Society, this initiative is firmly underway. But large-scale projects like this will have more success if they are part of a wider research landscape that is properly supported and able to thrive. The government's current Dementia Challenge includes spending commitments until 2020 – the next Parliament must honour these commitments and develop a longer-term strategy for supporting dementia research, or we risk losing this hard-earned momentum.
This election should not be just about Brexit – but the Brexit negotiations will also be important. We've talked elsewhere about the ways in which our exit from the EU could affect dementia research and the life sciences sector in general. We'll be urging our politicians to ensure UK scientists don't lose out on valuable funding, or find themselves less able to develop cross-border collaborations, as a result of the final Brexit deal. Similarly, we will be seeking assurances about the positions of talented scientists from the EU who are carrying out important dementia research in UK labs.
We need your help
Political action doesn't happen without people on the ground. One in three of us have a family member or close friend with dementia, and now is the time to remind those seeking our votes just how big an issue this is – and that dementia research must be a priority for the next Government.
To add your voice to the #campaignfordementia, you can: