Richard Judd is a novice runner who lives with his wife in Leadgate, County Durham. He has two grown up children and has been supporting Alzheimer's Research UK by taking part in the charity's latest campaign Running Down Dementia around his busy job in telesales. Richard has been critical in keeping fellow runners motivated by frequently posting words of encouragement on the Running Down Dementia Facebook page. He is running in memory of his nan Celia Friend who died with dementia 20 years ago.
It all started a year ago. I was 47, unfit and was sitting down for most of the day working in telesales. The turning point for me was when my sister-in-law decided to do the Great North Run for her 50th and I said I'd do it with her. I didn't really know what that meant at the time!
I had heard about parkrun, which offers free timed 5km runs across the country. I was determined to get fit and, as nervous as I was, I pushed myself to go down to my local Blackhill parkrun one Saturday.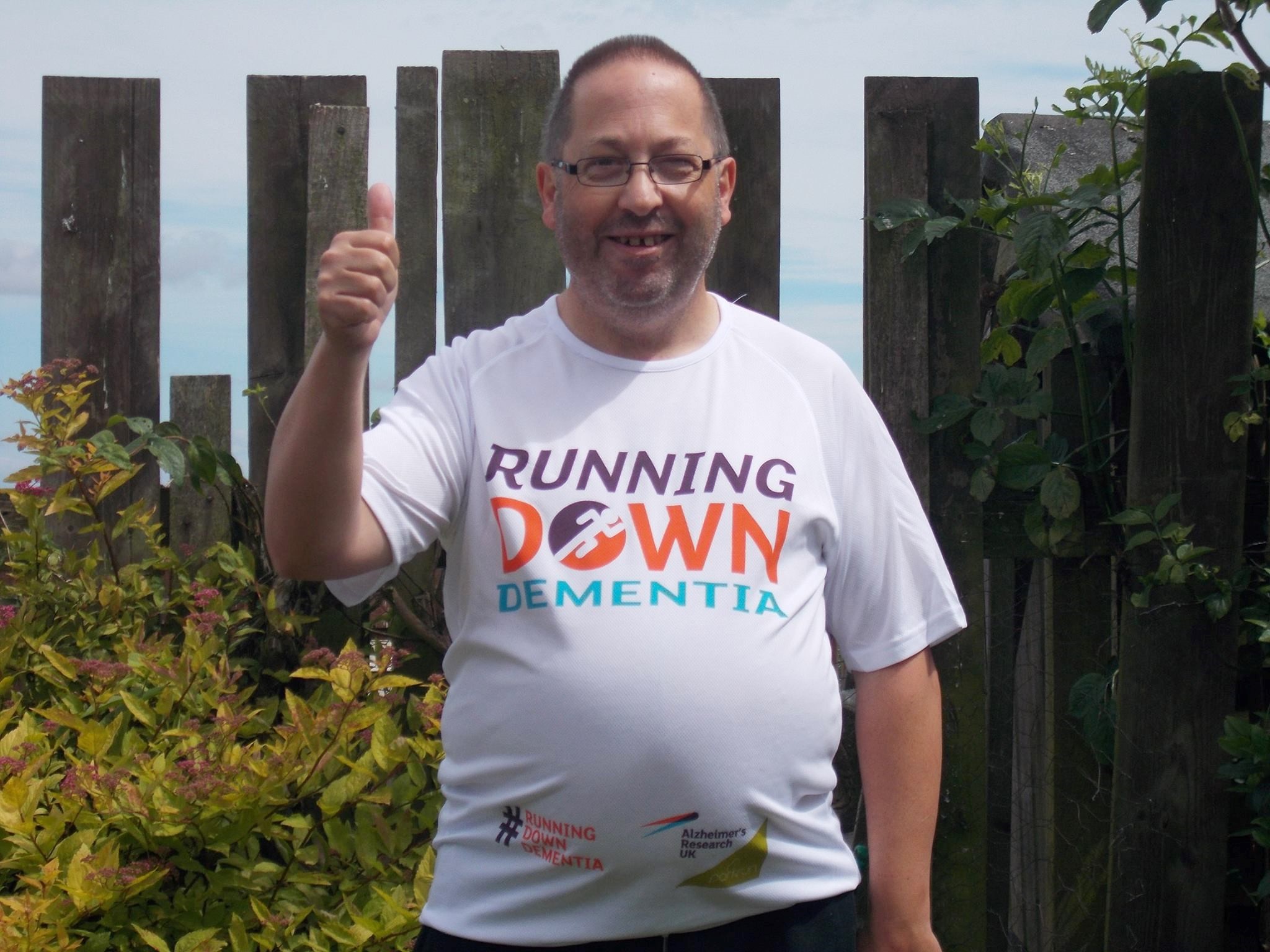 That morning I was a bit scared as I'd hated cross-country at school. But I didn't need to be – a friendly parkrunner walked me around the circuit and talked to me the whole way and soon I'd finished without even realising it. We all went for coffee afterwards and I was overwhelmed by how friendly everyone was. I've never looked back since.
It took a full three months before I could jog round the entire 5km course without walking. At times I wanted to give up but I'm so glad I powered through because in May I found another incentive – Running Down Dementia. Running Down Dementia is Alzheimer's Research UK's latest fundraising campaign, which challenges participants to run 100km over the summer while raising £100 for the charity.
I was ready to get back into shape, and the thought of using my new-found energy to give something back made me even more eager to take up the challenge. Better still, Alzheimer's Research UK is parkrun UK's official charity partner which is how I heard about it, so I knew I'd have plenty of support from both organisations as I clocked up my miles.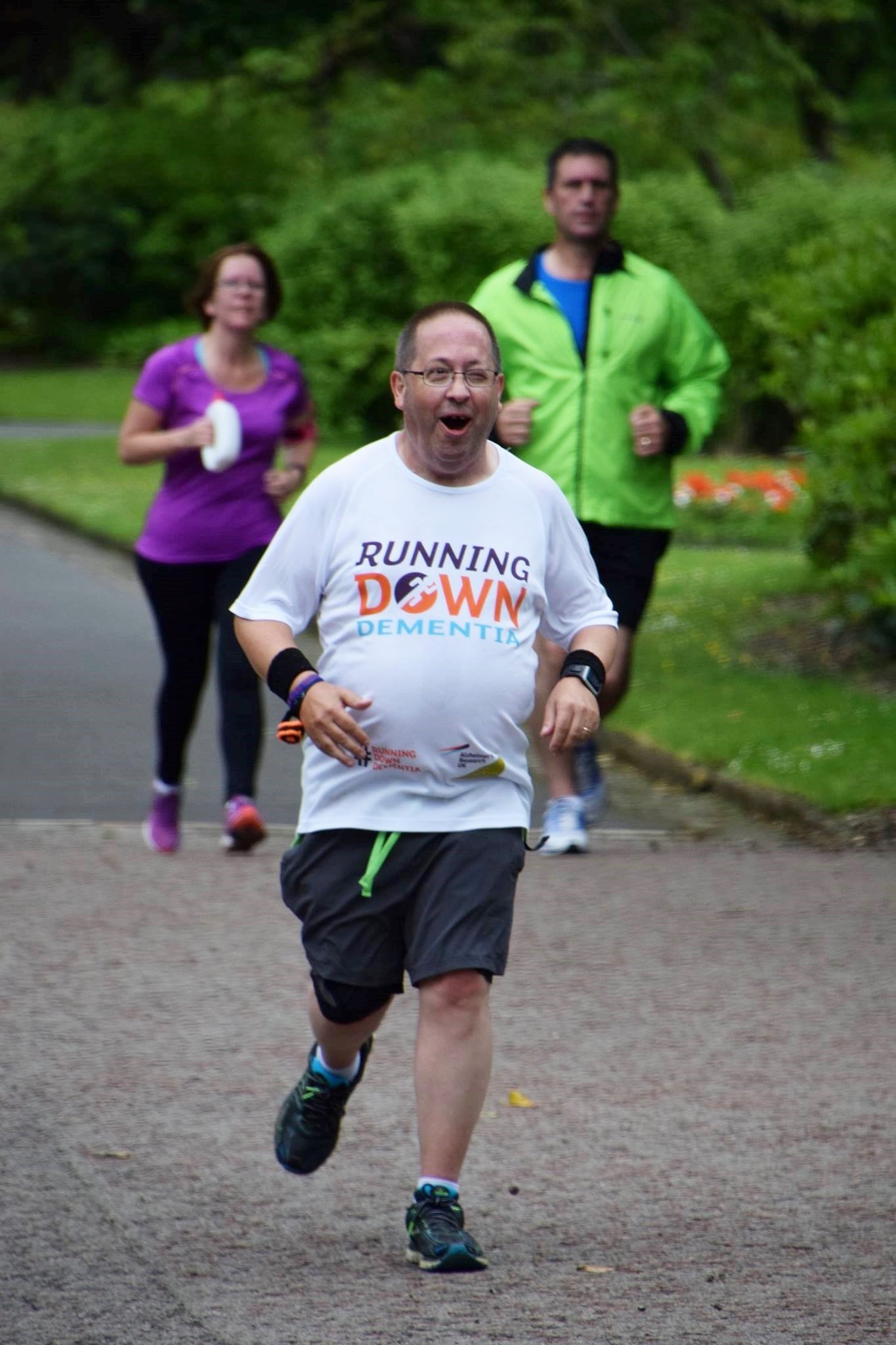 I've never been so proud of myself. I've now run nearly 400km and raised over £300. I'm not a fast runner – I'm certainly no Mo Farah – but I've really been enjoying it. It can be hard to motivate myself to go out sometimes but I always feel better for it afterwards. I've also lost weight – nearly two stone in two months!
My first parkrun took me 50 minutes, and now I've reached a personal best of just over 32 minutes. I'll be doing my 50th parkrun this month and will be running the Great North Run half marathon in September.
Running Down Dementia makes a huge difference to Alzheimer's Research UK's pioneering work to find the best treatments and preventions for dementia. I was inspired to take part by my nan Celia Friend, who sadly died with dementia 20 years ago.
My nan was a lovely, friendly lady and she helped to look after me a lot when I was young. Near the end, she remembered her youth perfectly but nothing recent at all. She just wasn't my nan anymore. I wanted to raise money for Alzheimer's Research UK because anything that can be found to improve the lives of those with dementia would be a brilliant thing.
One of the really great aspects about the challenge is the Facebook page. The other runners on the page are like an online family, we all support one another as we head towards the same goal. It would be great see anyone considering Running Down Dementia sign up – you won't regret it.
To support Richard, visit: https://running-down-dementia.everydayhero.com/uk/richard-2